Noémi Gruner & Séléna Picque
25′ | 2023 | France, Belgium | Animation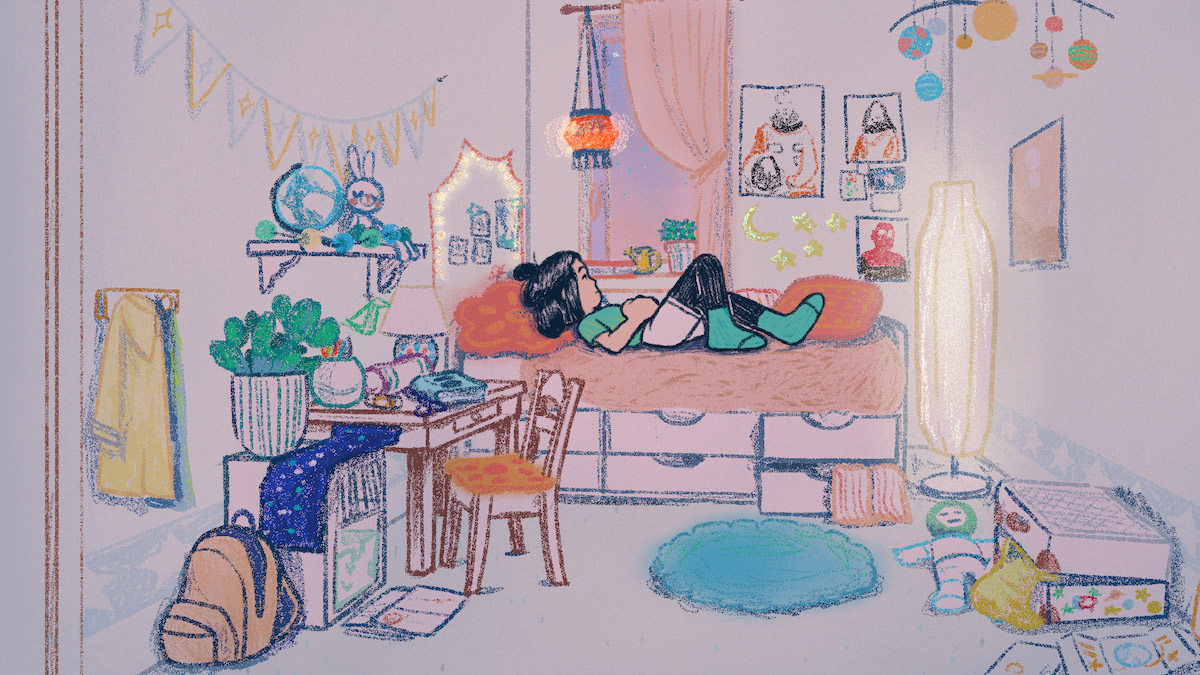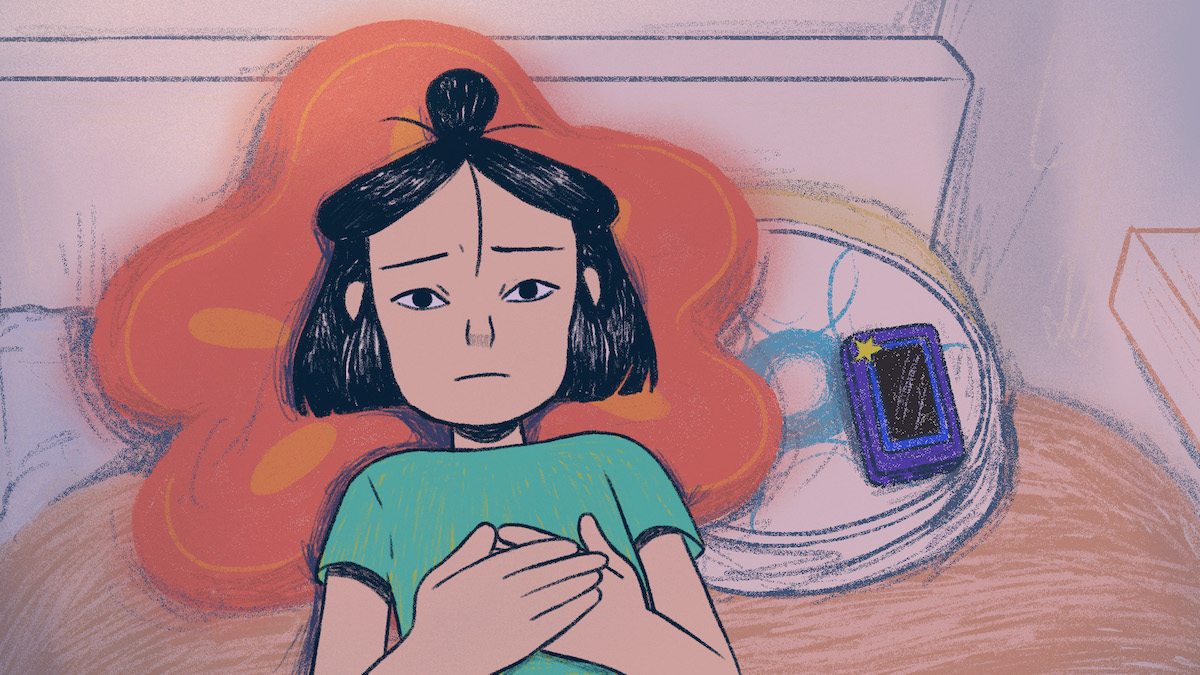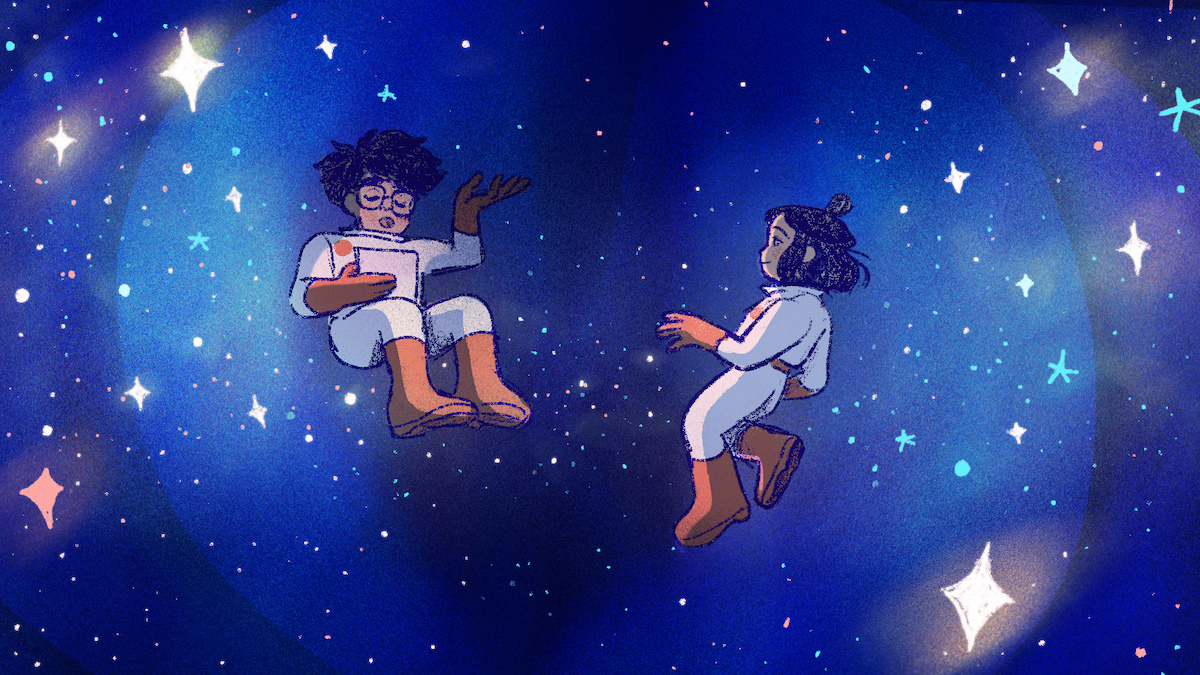 // Chenghua, 9 ans,  est sans cesse sollicitée par ses parents comme traductrice alors qu'elle doit préparer un exposé sur l'Espace avec son meilleur ami Sofian. Chenghua ne supporte plus cette responsabilité et cherche à s'émanciper de sa famille. Son envie d'espace et son enthousiasme naturel l'aideront à franchir le pas !
// Chenghua, aged 9, is preparing a school project on space travel with her best friend. She cannot find enough time to do this as she is constantly asked to translate for her parents. They do not speak French and are dependent on their child; they do not realize that they are placing too heavy a weight on her young shoulders. Chenghua can take no more and tries to break free from her family. Her desire for space and natural enthusiasm will help her take those steps.
Société de production | Production company : Tripode Productions
Producteur | Producer : Delphine Schmit
Adresse | Address : 4 rue Bazille Balard 34000 Montpellier
Contact :  contact@tripodeproductions.fr
–
Co-production | Co-production company : Need Productions
Producteurs | Producers : Géraldine Sprimont, Anne-Laure Guégan
Adresse | Address : Chaussée d'Alsemberg 596 – 1180 Bruxelles
Contact : info@needproductions.com
Réalisation | Director : Noémi Gruner & Séléna Picque 
Scénario  | Screenwriter : Noémi Gruner & Anna Frégonèse
Montage image | Editor : César Diaz
Montage son | Sound editor : Laure Bardou
Mixage| Sound mix : Gilles Bénardeau
Musique originale | Original soundtrack : Sarah Triquet
Paris Courts Devant | 2023
Trickfilm-Festival Stuttgart | 2023
Animac – Mostra Internacional de Cinema d'Animació | 2023
Festival du film d'animation de Rennes | Panorama | 2023
Palm Spring Animation Festival | 2023
Festival Ptit Clap | 2023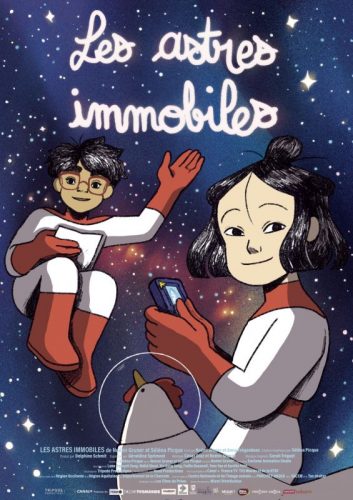 // Séléna Picque est née en 1988 à Auchel. Après des études en Graphisme/Illustrations à l'Institut Saint-Luc à Tournai (Belgique), elle se spécialise en cinémation d'animation et sort diplômée de l'EMCA en animation 2D à Angoulême en 2015. Elle alterne les spécialités selon les productions, comme le storyboard, le character design et a notamment travaillé en tant que décoratrice sur la série ARIOL réalisée par Hélène Friren (Folimage Studio) ainsi que sur le long métrage de Jérémy Clapin J'AI PERDU MON CORPS (Xilam Studio). Les Astres Immobiles est son premier film en tant que réalisatrice.
// Séléna Picque is a french director and illustrator. After her studies at the EMCA animation school in Angoulême, she experienced different position in the animation field and worked on several productions as storyboard artist, character designer and mostly as a background designer on multiple TV shows and an animated feature film. With Noemi Gruner she co-directed the TV special "Immobile Stars" produced by Tripode Productions. 
LES ASTRES IMMOBILES (2022)
// Noémi Gruner est née à Paris en 1991 et est diplomée de l'EMCA à Angoulême en animation 2D ainsi que d'un DMA en cinéma d'animation à Paris. Elle écrit et réalise des courts-métrages d'animation. Son premier film LA COSTA DORADA a été produit chez Perspective Films et a tourné dans plus de 35 festivals. Il a remporté deux prix, le Best 2D animation et le Best Narrative animation au Festival Animex. Elle a également travaillé comme animatrice sur le court-métrage LES ORMES de Marion Desseigne (Perspective Films et Tu nous ZA pas vu) et comme décoratrice sur la série ARIOL saison 2 (Folimage studio, Canal+) ou encore sur LA TRAVERSÉE de Florence Miailhe (Les films de l'Arlequin, la Ménagerie, Arte). Elle Travaille actuellement sur 2 films d'animations, TIAN DU CHENG, et LES ASTRES IMMOBILES, en collaboration avec Séléna Picque. 
// Born in Paris, Noémi Gruner is a French director and scriptwriter. Her first short film is called La Costa Dorada, produced by Perspective Films and selected in more than 35 festivals around the world. Les astres immobiles (Immobile stars) is her second short film, a TV Special co-directed with Séléna Picque and produced by Tripode Productions and Need Productions. She also works as a background designer on differents animated films.
LES ASTRES IMMOBILES (2022)
LA COSTA DORADA  ( 2015)