Tom Prezman, Tzor Edery
Tzor Edery is a queer artist based in Jerusalem. They studied experimental and stop motion animation in Bezalel Academy of Art and Design, graduating in 2019. Their works center on the experience of the body, gender, culture, and personal-communal history, and interpreting those themes through concrete images. Their background in dance and music, as well as textile, geology and archaeology, informs their work using these physical, object-centric fields as a form of storytelling. With a particular focus on the Middle East and North Africa, they seek to bring these elements of aesthetic and culture together in their personal and contemporary visual world.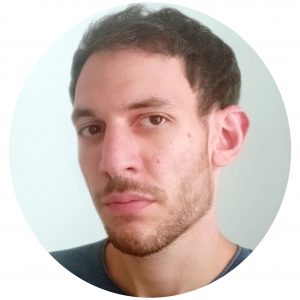 Tom Perzman is a visual artist and filmmaker living in Tel Aviv. Tom lived abroad where he gained experience in a variety of creative fields that accompanied him into his academic studies in the Bezalel Academy of Arts and Design in Jerusalem, where he gained his BFA in animation. Tom chooses to play in his works with time and its fluidity and meaning, he unfolds his family history and aims to promote Queer story telling in nowadays society.